Trust Your Local Flower Shop Near Ditmas Park, NY
When you want to send flowers to a Ditmas Park address, why not choose a local floral services provider?
Marine Florists has built a long-standing reputation on having some of the freshest bouquets in the five-borough area. Our legacy goes back to 1898, when we opened our Brooklyn store. Since then, we have diligently helped people send love, warmth and emotions with a little help from beautifully designed blooms and petals.
Whether you want a gorgeous display for a loved one's birthday, or you need a traditional casket spray, Marine Florists is ready to help. Order flowers online for Ditmas Park delivery right now. Going to be in Brooklyn? Stop by and say hello. You may want to treat yourself to a gift from our shop, or pick up loose stems to arrange at home.
Discover a world of fresh, beautiful flowers and superior customer service at Marine Florists.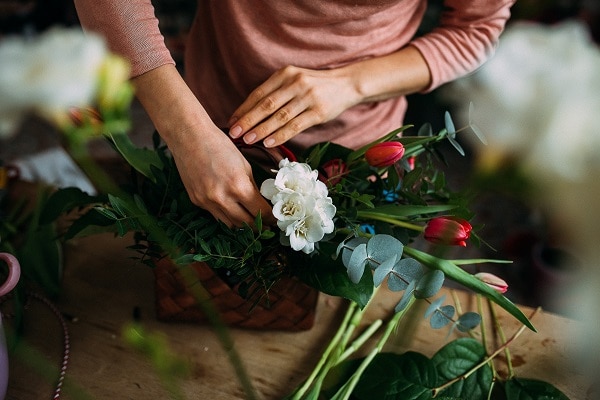 Ultra-Fast Same-Day Flower Delivery to Ditmas Park
We are all incredibly busy, so it only makes sense that sometimes we forget events like birthdays, anniversaries and even holidays. Good thing Marine Florists is ready to step in when you need same-day delivery to Ditmas Park addresses.
Simply place your flower order online, by phone or in-person no later than 3:00 p.m. Monday through Friday or by noon on Saturday and Sunday. From that point, we will custom-arrange the perfect bouquet display and hand-ship it to your recipient by the evening. Plus, we will never mention that it was a last-minute order. Your secret is safe with us!
Purchase same-day delivery for someone in Ditmas Park, NY, right now.
Expansive Floral Services for Ditmas Park Delivery and Events
Beyond ordering flowers for birthdays and other special occasions, many people turn to Marine Florists for arrangements that serve other purposes. Fresh, silk and dried flowers can be used in plenty of different ways:
- To add a pop of color and style to corporate reception rooms and lobbies.
- To breathe life into business meetings, especially if they are larger gatherings or holiday parties.
- To promote a wedding or party theme.
- To stage a high-end property for real estate open houses and events.
- To say "thank you" to a client, colleague or neighbor.
The next time you cannot come up with the right words to express an emotion, turn to Marine Florists. We know that flowers can speak for us in a language that crosses all boundaries.
Extensive Line of Gifts at Marine Florists
Looking for something to supplement a flower arrangement? Marine Florists offers dish gardens, exotic flowers, plants, gift baskets, gourmet baskets, greeting cards, candles and more.
Stop by our flower shop near Ditmas Park, NY, to see all the exciting new selections we have. Feel free to buy something special for yourself, too! There's nothing wrong with treating yourself to a surprise of fresh blossoms.
Place Your Floral Arrangement Order Online for Ditmas Park
It has never been easier to order fresh flowers online for someone in Ditmas Park. Come to Marine Florists for the fastest and most trusted service in the Ditmas Park region.