Why You Need More Carnations in Your Life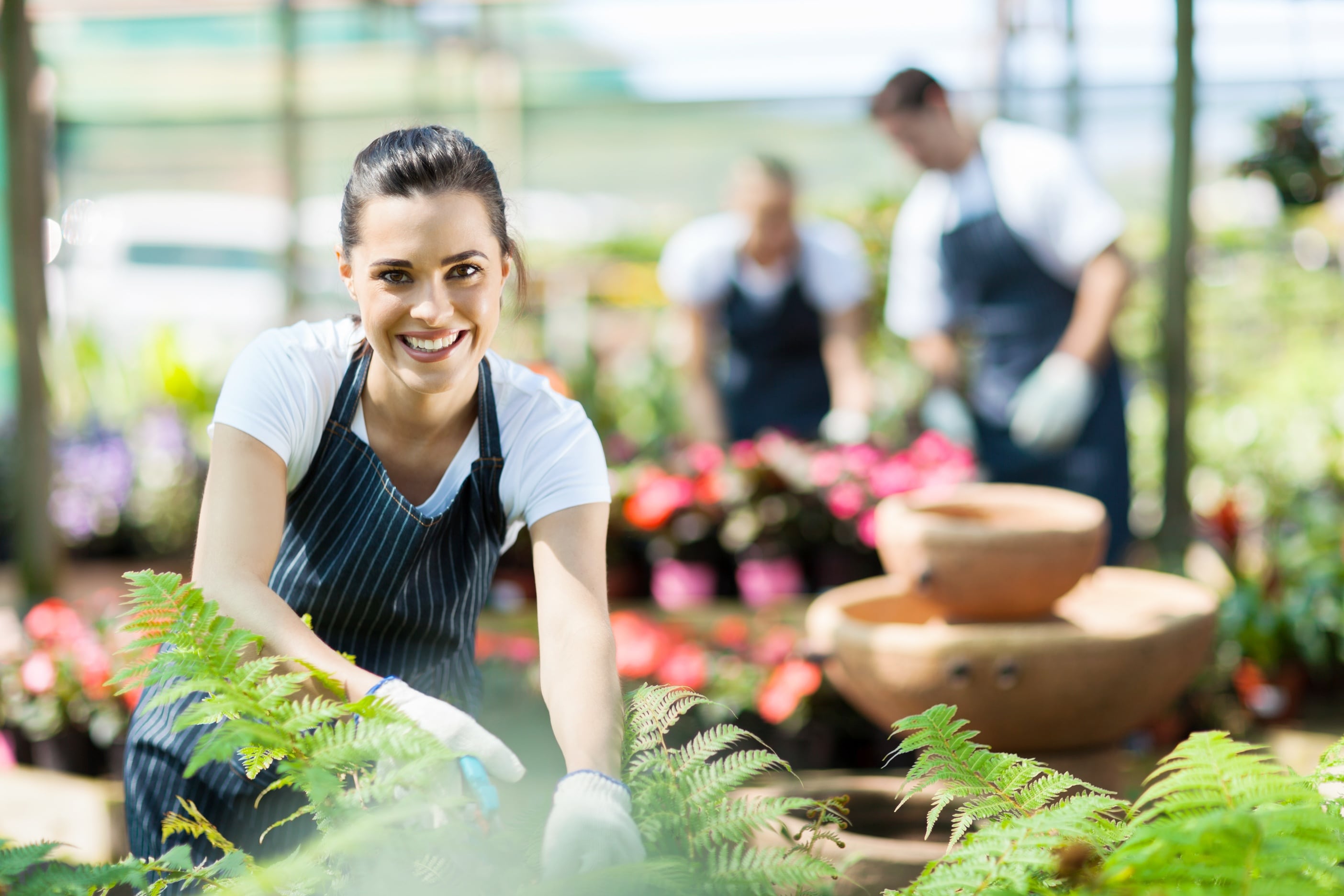 If you've ever placed a handful of flowers into a vase, you probably realize there's more to creating a beautiful bouquet than that. Yet a lovely arrangement can make the recipient beam and can brighten any room. Arranging flowers is an art form that adheres to design principals. Discover the key elements that go into constructing a bouquet to help you make a decision for your next special occasion.
Design Elements
Florists adhere to design elements to create appealing bouquets.
Color
There's a strong connection between color and flowers. This is especially true when it comes to roses, where different colors carry different meanings — red for romance, yellow for friendship, pink for gratitude. However, as a design element, color is key to both cohesion and presentation.
First, a bouquet should have a set color palette. Florists may choose a monochromatic palette, or they may opt for a standard such as triadic or analogous. The chosen palette not only makes the bouquet cohesive, it also helps set the mood.
Second, florists decide how to disperse the colors. Sometimes even distribution throughout the bouquet creates the desired effect. However, they may choose to group flowers of a certain color together to balance other elements in the bouquet or to showcase an architectural flower.
Shape
In that vein, another important element of bouquet design is shape. As with color, shape is an important part of an individual flower's presentation. Certain shapes, such as the stiff and bold lines in calla lilies, make them difficult to blend with other flower shapes.
Many bouquets feature a few architectural flowers and several smaller flowers. When designing a bouquet, florists use shape for balance. They may cluster several small flowers near a large bloom. However, florists may also choose several blooms of around the same size and shape. Then they're usually looking at the overall shape of the bouquet in organizing the flowers.
Texture
Along with shape comes texture. Flowers that are the same size and general shape may not feature the same texture. For instance, think of a rose and a carnation — the ruffled petals of a carnation give it a very different look from the smooth petals of a rose.
As the Fresh Exchange points out, varying textures gives a bouquet visual interest and keeps the eye moving throughout the presentation. Florists use not only flowers and filler plants with varying textures to create this look, but also different sizes of flowers. They tend to mix the architectural flowers with softer flowers as filler.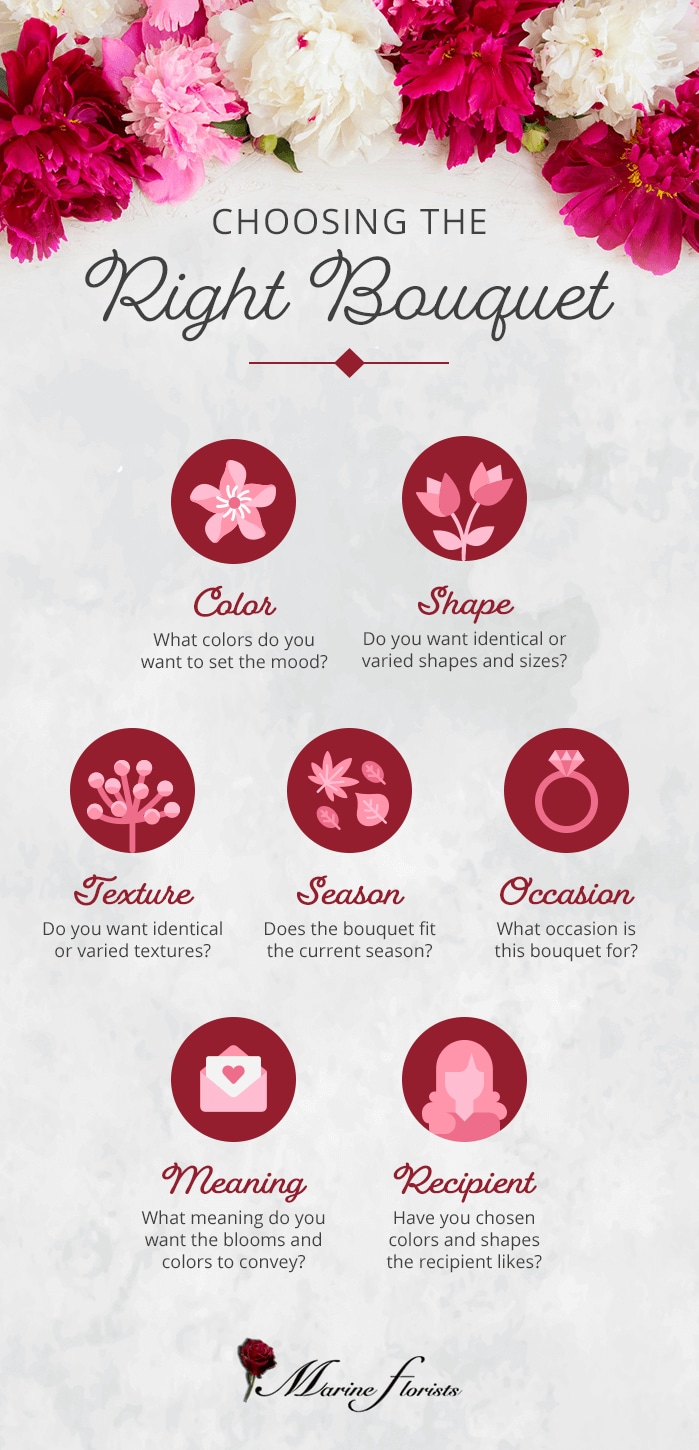 Best Flowers for Bouquets
Obviously, the flowers are the centerpiece of a floral bouquet. While most flowers can be used in a bouquet, some naturally lend themselves to the construction. Generally, flowers with solid blooms and long stems work best.
Architectural flowers usually feature bold blossoms. Allium are some of the most architectural flowers. Other examples include peony, iris, daffodil, dahlia, and Peruvian lily. Florists often use tall or spiky flowers to add drama. These include delphinium, penstemom, speedwell, and gladioli.
A lot of the bouquet consists of "filler" flowers, although this is unfair to the blooms' beauty. Airy flowers, such as pincushion flower and the classic baby's breath, can add a sense of lightness to a bouquet. Small flowers, such as sweet pea and corn cockle, add beautiful texture.
Choosing a Bouquet
There is nothing wrong with going into a flower shop or perusing bouquets online and choosing the one you like best. In fact, what you're probably doing is choosing a bouquet based on emotions the colors and shapes create in you. However, if the bouquet is a gift, also consider the recipient's taste. Choose blooms in colors and shapes you know the recipient likes.
Likewise, look at the overall presentation of the bouquet. Observe how the flowers interact with other elements, such as the vase or ribbon, within the arrangement. Again, choose one that not only speaks to you but that will mesh with the recipient's décor.
The florists at Marine Florists arrange all bouquets by hand. A bouquet of flowers makes any recipient happy — choose one of our beautiful designs to brighten up someone's day.